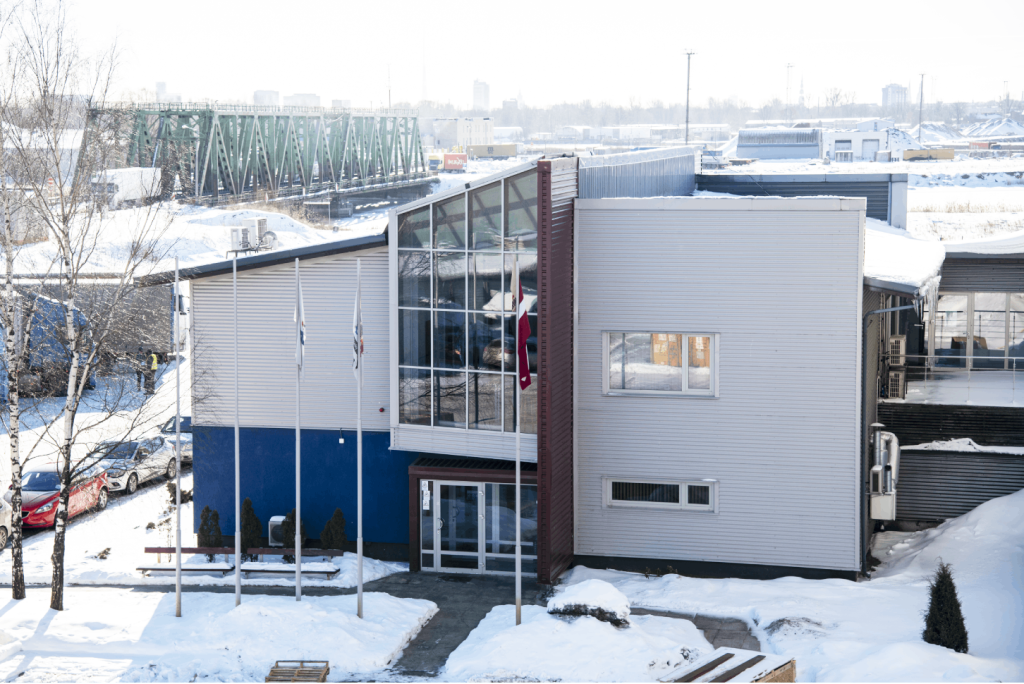 P&B Terminal is a large modern terminal located in the customs area of the Freeport of Riga.
Due to the ample warehouse space, vast territory of 3 hectares and convenient location, we can offer a fast and high-quality cargo service to our customers.
What we offer:
Warehousing in the customs area. This service is especially valuable for those customers who are engaged in the import and export of goods by sea. Large consignments of goods can be stored in our warehouse until the need arises for their further transportation.
Cargo handling when changing modes of transport. If your cargo is transported by several modes of transport, for example, first by land, and then by sea - our services are what you need! We carry out cargo handling of even oversized cargo using special equipment.
Due to the Company\'s special equipment and vehicles, our services are among the most affordable on the market! The team that manages the equipment will cope with any volume and type of cargo.
Oversized cargo handling service is not available in all warehouses and terminals. With the Meclift reach stacker, we can handle a wide variety of cargos, from cars and semi-trucks to aircraft parts. We carry out unloading and loading of modular structures.
The Calmar reach stacker can handle containers of any tonnage. Handling containerised cargo does not consume much time and does not cause inconvenience. There is sufficient area on the terminal territory for loading and loading of containers.
The structure of our Company provides for several areas of activity. This allows us to render all the services in demand in the field of transport and warehouse logistics!
Warehouse Logistics Department. Employees of this line are highly qualified professionals who have been working in the field for many years. They are engaged in cargo handling on a daily basis, provide advice on cargo storage conditions to customers, organise the delivery of sea containers from the port to our terminal territory. Every day they prepare all the necessary shipment documents and help with passing through customs control.
Transport Logistics Department. Professional freight forwarders ensure fast and high-quality transportation of your goods by any mode of transport to any part of the world! We are proud to be the members of transport alliances and cooperate with carrier companies worldwide. Freight matching and building complex routes - this is what our employees are unbeatable.
Customs Clearance Department. Our customs brokers have been performing various types of declarations, customs permits and certificates for several years. In this matter, the key point is the accuracy and completeness of the cargo data provided to the regulatory authorities. As part of the comprehensive service of your cargo by our experts, you will not have to additionally provide information for issuing a customs declaration to each employee working with you. The unique data accounting system allows our Customs Clearance Department staff to prepare the necessary documents at any stage of cargo handling. We care about your comfort and take responsibility for the terms of cargo clearance and delivery and the quality of the work performed.
Company Mission and Values:
Quality. We constantly improve the quality of our services. We do not work for profit at the expense of quality. All processes are controlled. We use an individual approach to each customer.
Pride. We are proud of our customers, the result of our work, the professionalism of our team and unique technical equipment.
Professional competence.The main criteria for hiring and appointing employees to a particular position are their professional skills and optimism. We are sure that the basis of the successful growth of our Company is the unity of the constant professional growth of each employee, the team cohesion and the desire to be leaders in the logistics services market.
Innovations. We make every effort to develop and ensure the competitiveness of our partners and customers. Constantly introducing new technologies and an innovative approach in the work of various Company services and departments, we increase the level of service rendering.